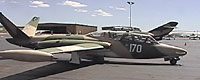 Sorry ... we don't have a Citabria
and
the T-34 is down for a new Airworthiness Directive ... so
The Jetwarbird Training Center is offering an introduction to Aerobatics at a special price.
2 hours in our Fouga Magister or L-29 for $3,300
This special priced offer is good until our T-34 is back on line.
Ground School ... 2 hours
Introduction to the Fouga Magister
Introduction to Aerobatics
2 flights at 1 hour each to follow.
We will cover
Full Stall Series
Aileron Rolls
2 Point Rolls
Loops
Immelmans
Cuban 8's
Cloverleaf
Barrel Rolls
This course is also available in the L-39 at $5,000
Or in the T-33 at $5,300
Call us for more details...