Upset/Emergency recovery training has gone another step. Previously, there were two paths for training. The first involved the use of a simulator to "simulate" attitudes. The student could maneuver the "jet" to recovery as instructed, but without the reality of "g" forces and debris flying about the cabin. This could be easilty performed without anxiety on the part of the trainee.
The second method involved the use of piston aircraft to develop skills. The disadvantage here being the very low comparative airspeeds in addition to a false situational transfer based upon the resulting use of less sky and altitude.
JET WARBIRD TRAINING CENTER offers a third alternative:
The L-39 is a big step toward the reality of upset recovery training. Here is a well-mannered aircraft capable of 8 G's. Although there is no need for that kind of "G", the strength of the airframe leads to a feeling of confidence when we are subjected to 4 G pulls.
The L-39 is perfect for demonstration of descending spirals at airspeeds of 400 knots. Its high wing loading allows excellent stall demonstrations. It is also equipped with factory switching that allows failure of airspeed indicators, altitude indicators and directional gyros.
The JET WARBIRD TRAINING CENTER takes advantage of all of these systems to instruct students in emergency recovery techniques in visual and simulated instrument flight.
How it Really Looks
When your Citation/Canadair/Lear gets inverted, the nose drops and you wind up in a descent at three to four hundred knots at five thousand feet per minute.
The Trouble with Simulator is:
There is no anxiety
You do not feel the G forces
The Trouble with the Piston Aerobatic Trainer is:
The airspeed stays below 200 knots… allowing you to have a false sense of security
The "time to impact" is a lot longer in the piston aircraft.
Compared to the jet you usually fly, the trainer rolls out instantly, in an unrealistic way
Our Solution
We attempt to mimic your aircraft's flight characteristics by reducing the roll rate that we allow you to use for recovery.
Our aircraft will simulate your rate of descent and airspeed. This allows us to provide much more realistic training without sacrificing safety.
Course Curriculum
Flight One Ground School
Introduction to the L-39 jet. Comprehensive ground school to prepare the pilot for front seat operation of the L-39. About 1.5 hours. Basic techniques including:
stall/g speeds
recovery techniques from stalls induced to unusual attitudes
spin recovery techniques
G awareness lecture
G physiology and tolerance techniques
Preflight Brief for First Flight:
preflight
engine start
taxi
takeoff and climb to practice area
clearing turns (35 and 45 degree banks)
60 and 74 degree banks…g loading of the pilot awareness
aileron rolls
2 point rolls…recovery from the inverted
limited aireron recovery
Flight Two Ground School
post flight reviwe/de-brief
discussion of limited roll rate and g limits of trainee's aircraft
unusual attitude recovery techniques
review of stall aerodynamics and recovery procedures
Preflight Brief for Second Flight:
review of very steep turns
limited airelon recovery from the inverted
nose down attitude recovery from the inverted
nose down attitude recovery from the inverted with limited aileron
stall series…clean, dirty, accelerated
extreme attitude stall recovery techniques
descending spiral high g recovery
I've got it/you've got it recoveries
Post Flight De-Brief
Note for Our Pilots
We will work with your tolerences to make this a useful and fun learning experience. Having instructed all levels of pilots in aerobatics for the past 20+ years, I am aware that our goals will have to be modified slightly for each "student". Some pilots may be able to go further than the suggested curriculum. Some may find it necessary to "ease up" on some maneuvers. We are here to work with you.
Please feel free to call and discuss your specific needs
Larry Salganek
Flight Instructor, Examiner, Low Altitude Waivers in 5 jets. 6000 hours as instructor, 3000 hours as aerobatic instructor. Spiritual Advisor as needed.
Larry,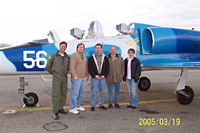 Thanks for a great time flying this past week-end. All of our pilots, including myself, enjoyed it more than we ever expected.
Out "Upset" Recovery Training in your L-39 was second to none. It was an experience that none of us will ever forget. Not only was the flight instruction some of the best we have ever received, but the free "Spiritual Guidance" was an added bonus.
We hope to return next year for additional "guidance". Thanks again Larry for a great time!
Sincerly,
Glen T. Lowery
Aviation Department Manager
Ruby Tuesday Inc.